Often overlooked for the Great Ocean Road, Victoria's Wilson's Promontory is an arid, coastal wonderland with wild wombats, kangaroos, emus & echidnas all shitting all over the place! About 3 hours from Melbourne, it's a real wildlife experience with endless views and incredible isolation…
Jumping on the Monash Freeway and heading South-East, you'll traverse through acres of farm land and cow country until you reach the entry point for the park (be sure to stop at the entrance to grab a park map). Wilson's Promontory National Park is over 500 square-kilometres of land full of animal poo and bush scrub!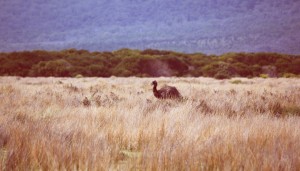 But look further than the poo and you'll soon see wild wombats and emus crossing the road in every direction. About 15 minutes into the park you'll see a clearance to your left often with a couple of emus plodding along and a couple of friendly Germans stalking their every move. If you park your campervan and walk past the first line of scrub you'll find a massive flat terrain with wombat dens, kangaroos and emus! Best time to see these furry little fuckers is around sunrise or sunset if you're too hungover to get up early!

Apart from wildlife, the coast is incredible. With massive sand dunes and offshore islands, the view is amazing. There's a tonne of little spots to park your Wicked Camper and picnic by the sea, and also plenty of offroad hiking, so wear some comfy shoes!
If you're into surfing, there's a few waves in and around Tidal River and Whisky Bay if you get lucky and the swell manages to snake it's way through the myriad of offshore islands.